---
---
Give your room a southern flair with a retro cactus neon light. Handcrafted from real glass, this desktop neon light sign is bound to spark conversation!
Details
Hand crafted, bent from glass tubing
Filled with real neon gas
Glass tube glows green when turned on
Indoor use only
Dimensions: 16 x 7 x 4"/ 42 x 17 x 10 cm
Contents
Black cylindrical base
12V DC Power Adapter
Compatibility
Fits North American standard sockets
---
---
Customer Reviews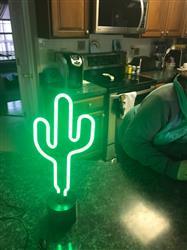 02/10/2019
Neon cactus
Got it as a gift for my plant loving wife. She loves it! Puts out a nice green glow that's nice and bright, especially at night.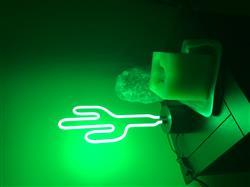 12/06/2018
AMAZING CACTUS
The best freakin neon cactus I've ever seen in the wild. Lights up my room like the Fourth of July! It's a party every night up in here! Sooooo worth it. Buy it
12/15/2019
Cactus neon light
I am very happy with the size and quality of the light. It is a Christmas present for our granddaughter who loves cactuses.
Terry W.
United States
Thanks for the review Terry - we hope your granddaughter loves her new Cactus light!
01/24/2019
Neon Cactus
Great packaging, easy setup, glows bright, looks like a cactus. 10/10 would recommend.
Mitchell M.
United States
04/05/2018
Neon... more like ME-on
Neon... more like ME-on. I've never felt more me. It's the little things, a plate memorabilia from Mexico, an ash tray I store pennies in from my grandma, wallpaper from Etsy and these Amped and co Neon Lights. We are hipsters and millennials and we need to feel like we are in Miami on retirement NOW because social security is shot and we are NEVER retiring. We need to also feel like we are in the 80's because we want to feel how the 20/30 something's felt when they were ruining said economy. And I also need to see an outline of a flamingo in the reflection of my Neo Beyonce/johnny bravo cat eye glasses. Destruction and growth, the 80s and tomorrow, New York City East Village and Miami South Beach. WE WANT IT ALL AND WE WANT IT NOW! My neon lights bring light to all the good things, and still leaves some things as they are better off... in the dark.